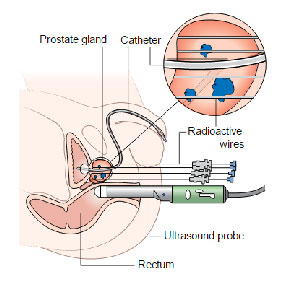 The German health clinics presented on our website offer a wide variety of modern and effective methods of prostate cancer treatment. One of these methods is the brachytherapy.
Brachytherapy in Germany is used in patients with tumor of prostate gland. This disease is not rare, though it is more common for men over the age of 50. Prostate cancer can occur at the age of 40-45 as well, but such cases are seldom. The aim of the therapy is not only to treat the disease in its early stages of development, but it also effective against advanced prostate cancer. At early stages the cancer doesn't spread beyond the cells of the prostate gland, still it is important to keep in mind that an insidious onset of the disease leads sooner or later to metastases in vivo and affect pelvic lymph glands, bones, spinal column, and ribs. Sometimes brachytherapy is used to prevent diseases of liver, lungs or soft tissues. Hyperplasia of prostate gland can be both benign and malign; therefore it is important to consult a doctor by the first unusual symptoms or malaise.
Brachytherapy in Germany is a method of radiological therapy by which a radiation source penetrates directly in the target tissue of the affected site, the tumor nidus, without interfering with other systems or structures of adjacent soft tissues. To remove a malignant tumor of prostate gland an interstitial brachytherapy is used, which enables to treat not only the prostate gland, but also soft-tissue-organs.
Brachytherapy in Germany is done on a high technological level due to the professionalism of the physicians who use only modern equipment. With the help of radioactive needles or applicators the source is placed directly into the affected area, minimizing the radiation exposure to adjacent tissues. There are two methods of prostate brachytherapy, each of them has its special features. The first method involves a temporary radiation source which is removed after the therapy leaving no radioactive material in the prostate gland. The second one implies injection of radioactive seed implants into the prostate gland that remain there permanently. One of the main reasons for brachytherapy in Germany is a low complication rate.
Does it affect urination?
After such therapy in clinics with little experience in brachytherapy or with obsolete equipment the patient can face a variety of complications like an urination disorder (urinary frequency, urinary retention or pain). Brachytherapy in German clinics ensures good results due to the vast experience of the specialists and low complication rates (one per cent out of 100%).
Influence on the sexual function
A healthy reproductive system is crucial to each man; therefore, even while treating such a serious disease as prostate cancer, many patients are worried about the impact of the therapy on their sexual function. Brachytherapy makes it possible to treat the disease with a minimal risk of sexual dysfunction. The erectile function usually remains unaffected after the therapy, but in case of unsatisfactory erection it can be improved by medications and other adjuncts during the therapy.
Brachytherapy in Germany and its impact on gastrointestinal function
Compared to other methods brachytherapy is the safest treatment of prostate cancer in Germany. Unlike beam-therapy, brachytherapy can seldom lead to intestinal upset. Due to its safety and effectiveness brachytherapy is a popular and a highly valued treatment in Germany.
Brachytherapy in Germany is the safest and the most effective method to treat prostate diseases that ensures high survival rates, nearly 90%, among the patients. This treatment is similar to prostatectomy, though the complication rate is much lower after brachytherapy than after prostatectomy, for instance, urinary incontinence rates are lower than 4% and erectile dysfunction rates are lower than 15%. In few days or even in one day after brachytherapy patients can return to a normal way of life.