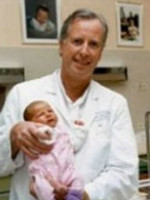 Prof. MD Stephan Szalay
About 80% of all infertile women do experience uterine polyps or fibroids. They can be located on the uterus or protrude into the cavity. A woman may even not be aware that she has one or more polyps in her uterus, since this disorder is usually asymptomatic or leads to sporadic bleedings. Uterine polyps need to be timely assessed, not only because they can interfere with your fertility, but also because they may develop to cancerous growths (malignant condition), lead to irregular periods or compression and obstruction of other organs (i.e. bladder, intestine). Below we will try to explain the main characteristics of this disorder as well as dwell on the methods of therapy in Germany.
The latest achievements of medical technology and high professional level of gynecologists in Germany contribute to successful treatment of uterine polyps with no risks and preservation of reproductive function.
German gynecologists point out that polyps, benign tumors and other uterine growths may dramatically reduce fertility capacities of a woman. Statistically only 5% of women with polyps are able to get pregnant.
Polyps consist of endometrium tissue and grow either on the walls of the uterus or beneath the mucosal covering. Polyps and benign tumors literally occupy place in the uterus, which has been reserved for an embryo. In pregnant patients, the polyps may lead to higher risk of miscarriages. Polyps outside the uterus may distort the cavity and block the fallopian tubes, which creates a mechanical obstacle for a fertilized egg.
Whenever polyps cause symptoms they need to be removed. The troubling signs, which may imply that you have a polyp or benign tumor, are
severe menstrual bleeding and bleeding between menstrual cycles
no periods for 2-3 months
weak bleedings during periods
severe pain in the lower abdomen (not associated with the periods) or pain in the uterus
painful sexual intercourse
irregular periods
Menstrual flow disturbances result in excessive bleeding, associated with the growth of polyps and leading to anemia. If you suffer from frequent bleedings, it is advisable to see a fertility specialist to have a special diagnosis of polyps done.
In Germany uterine polyps are successfully treated with modern medications. Conservative medical treatment of polyps and fibroids in the uterus is shown with a diameter of polyps or nodules up to 2 cm.
Among the most efficient medical substances, applied for conservative treatment of the polyps are synthetic agonists of gonadotropin-releasing hormone. By blocking the production and secretion of estrogen, these medical substances stop the development of the polyp cells and launch the shrinking process. Conservative treatment helps in regulating periods and alleviating pain as well as normalizes the amount of menstrual bleedings, but has contraceptive effect. For this reason it is not indicated in women, who want to get pregnant.
Safe extraction of polyps: Perfect precision of German surgery
The main advantage of the computer assisted surgery on the uterus, performed at German clinics, is the 100% guarantee of fertility function preservation. It reserves a chance for successful pregnancy and child bearing in future and helps to minimize risks. The higher precision is provided with the volumetric representation of abdominal organs on the computer monitor. The cutting-edge surgical systems guarantee that all the polyps will be identified and treated as soft, safe and precise as possible.
Minimally invasive "key hole" surgery for polyps extraction
German clinics offer the laparoscopic or endoscopic removal of uterine nodes or polyps. The surgery is performed through punctures made in the anterior abdominal wall. This intervention can save menstrual function and fertility of a patient and is absolutely safe. The laparoscopic extraction of polyps is characterized with the following benefits for a patient:
low-traumatic techniques
sparing effect: no risk of traumatizing the pelvic organs
no pain and blood loss
shorter periods of rehabilitation.
The procedure is performed under general anesthesia and lasts about 30 minutes to 2 hours. During the surgery simultaneous diagnosis is performed. Using an optical instrument, the physician evaluates the status of the internal walls of the uterus. Besides the tissue patterns of a polyp can be sent for histological examination to confirm or rule out the possibility of cancer.
The uterine fibroids and other benign tumors are removed with the help of a new technique called hysteroscopic myomectomy. Hysteroscopic myomectomy is a procedure for removing fibroids through a vaginal access. A flexible device is introduced into the uterus through the vagina and cervix. This device is equipped with fiber optics and a special surgical instrument in order to remove a tumor. Usually this procedure is performed on an outpatient basis in the first week of the menstrual cycle under local anesthesia or general anesthesia.
We will give you all the necessary information about the treatment of polyps, fibroids and other benign tumors as well as assist you in organizing your medical trip to Germany in a most secure and cost-effective way.