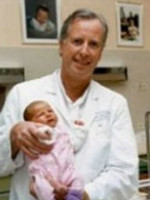 Prof. MD Stephan Szalay
Reproductive medicine in Germany is a comparatively young, fast-growing and promising area of medical science that has become widely popular in the treatment of male and female infertility over the last 30 years. Reproductive medicine is tightly bound to gynecology, endocrinology, andrology, urology, cryobiology, embryology, general medicine, genetics, etc.
According to the German Federal Ministry of Health (2004), more than 200.000 couples apply for the services of assisted reproductive medicine every year. In 2006 more than 38.000 women underwent in vitro fertilization. In the period between 1997 and 2006 105.365 children fertilized this way were born.
Over the last decades a big range of assisted reproductive technologies appeared in the reproductive medicine, including the following:
Intrauterine insemination

Intrauterine insemination is one of the least complicated technologies of reproductive medicine in Germany. It implies the insertion of specially prepared sperm cells into the uterine cavity in order to increase the chances of sperm cells to meet the egg. This method is often applied in combination with medicamental stimulation of ovaries.

Intratubal insemination

This reproductive medicine technique implies the insertion of specially prepared sperm cells directly into the ovaries instead of the uterine cavity. Hormonal therapy and preliminary diagnostic tests are similar to the ones made in intrauterine insemination.

Extracorporal fertilization – reproductive medicine in Germany

IVF is one of the most popular and efficient treatment methods of different infertility types. It is recommended in tubal obstruction, endometriosis, anovulation, after ovariectomy, in different uterine pathologies or ametria, in low quality of sperm cells in men. The stages of IVF include:

superovulation stimulation
follicle puncture
egg fertilization by a sperm cell in lab environment
embryos culture
transfer of embryos into uterine cavity

Intracytoplasmic sperm injection – reproductive medicine in Germany

Intracytoplasmic sperm injection (ICSI) is applied for the treatment of severe forms of male infertility. The ICS method is very similar to IVF. The primary difference is placing an egg cell and sperm cells in special environment where fertilization takes place. In ICSI method only one sperm cell that has the highest quality characteristics is selected. In ICSI method a sperm cells is injected directly into the egg.

The specialists of reproductive medicine in Germany apply ICSI method in the following cases:

The reduced number of sperm cells in ejaculate
Weak sperm motility
Morphological pathologies of sperm cells
The presence of sperm antibodies
Adiagnostic sperm and egg cells pathologies