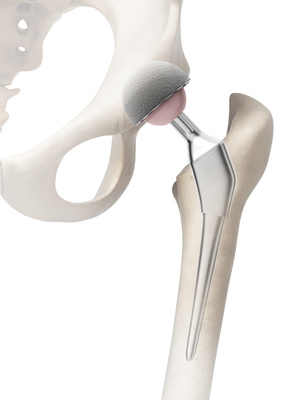 Evolving hip joint arthrosis / arthritis is an indication for either a traditional total, or complete, hip replacement or hip resurfacing (arthroplasty). These kinds of operations are variations of the hip replacement, but differ from each other significantly.
Hip resurfacing implies the maximal preservation of the hip bone. In this case only the surface damaged layer of the bone tissue is removed, and the whirlbone is covered with a metal cap to avoid further damage.
Hip resurfacing benefits
Today, a number of studies are conducted on the subject. The orthopedic surgeons all over the world acknowledge the benefits of hip resurfacing over the traditional method.
Hip resurfacing facilitates revision (repeated) operation. As far as those endoprostheses that are used in the hip replacement consist of mechanical components, it is marked that with time the whole implant unavoidably wears out and gets loose. As a rule, it takes place in 10-20 years after the operation.
The risk of the hip endoprosthesis displacement is less. Hip resurfacing implies the usage of more massive femoral components that fit the size of the real whirlbone in a greater degree. For this reason, their displacement occurs more rarely. But this statement is contradictory, as the risk of the hip endoprosthesis displacement after the operation depends on a number of other factors, including the applied surgical method, as well as the size and type of the utilized endoprosthesis components.
Hip resurfacing makes walking after the operation easier. In some studies it is shown that the patients after hip resurfacing walk more naturally than after the traditional operation. However, such differences are barely noticeable and their detection requires the usage of special instruments.
Hip resurfacing provides a greater range of the joint motion. As a rule, the patients after this operation have a greater range of motion than those after the traditional hip replacement. Nevertheless, several types of modern total endoprostheses allow achieving results that are similar to hip resurfacing ones.