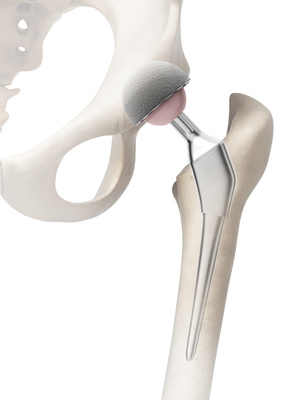 Hip joint surgery is done when conservative therapy is ineffective or in case of emergency. Modern medicine has a wide range of techniques for joint treatment, and high quality rehabilitation methods can help you to return to a life of full value after an intervention.
Surgical treatment of the hip joint is required when bone tissue is severely damaged by progressive diseases of the musculoskeletal system. In this case, joint replacement is necessary.
Before the intervention, additional examination is carried out to study the manifestations of pathology and reduce risk factors. For various types of hip joint surgery, contraindications can be different because they depend not only on general recommendations, but also on systemic factors, such as age, concomitant diseases, blood disorders and the nature of the intervention (primary or secondary).
But in most cases, surgery is not performed if a patient has one or more of the following diseases:
Severe chronic cardiovascular diseases
Cardiac or respiratory failure that can cause problems with anesthesia and other complications
Open form of tuberculosis
Purulent inflammation of the hip joint
Progressive chronic infection in the body
Neurological or mental disorders
Metastatic cancer
Coxarthrosis of the Hip Joint
Osteoarthritis is a disease inherent only to people. This is the price of a human upright posture. Since earliest humans began walking upright on two feet and made their hands free for work, they also had got this disease. Numerous archaeological excavations proved this many times. It happened because of the redistribution of the body weight to the articular surfaces that were not ready to that.
Coxarthrosis is arthrosis of the hip joint. The Latin word "coxa" means "thigh", "articulation" is the joint, and "os" indicates a non-infectious nature of the disease. In other words, coxarthrosis is a degenerative disease of cartilage tissue of the hip joint.
When formation of the bony skeleton is finished, cartilage tissue ceases to regenerate. This means that any damage to the cartilage tissue leaves its traces. To old age, such damages are numerous and cartilage can be nearly gone: joint bones start rubbing against each other. This causes typical clinical manifestations of the disease.
Coxarthrosis of the hip is associated with the severe form of osteoarthritis. It is the most often occurring condition among all the diseases of the musculoskeletal system, accounting more than 40% of all cases. This disease, usually, starts developing after 40 both in men and women. However, women are affected by this disease more severely.
Coxarthrosis is a degenerative arthritis of the hip joint that can be successfully treated at the initial stage of development. But, unfortunately, people tend not to seek for the medical help immediately as soon as they feel the first pain in the hip joint, which allows the disease to progress.
Hip replacement
Hip arthroplasty (hip replacement) is normally done to relieve pain and restore motor function in a severely damaged hip joint. Sometimes, a joint replacement isthe only way to restore joint function effectively and improve the life quality of a patient.
During asurgery, diseased joint components are replaced by an orthopedic prosthesis (an implant) that anatomically replicates a healthy joint and enables a full range of movements. Modern endoprostheses are made of ceramic, metal or high-strength polymers with high biological compatibility with the human body, and their lifetime is 15-20 yearson the average. When an artificial hip wears out, it is replaced with a new one.
THE HIP REPLACEMENT SURGERY IS ALREADY POSSIBLE AT A PRICE FROM
€11,000
. PLEASE SEND US YOUR INQUIRY WITH A CURRENT X-RAY IMAGE TO GET A DETAILED ESTIMATE COST.
Hip Endoprosthesis
Every third urban resident over 55 years has some signs of joint diseases. Often, a pain in the hip joint and limited mobility is considered as the age norm, and people do not worry about it. Only when the pain becomes intense and prolonged and causes the gait changes, it becomes clear that it is a time to see a doctor.
With any diseases of the hip joint, whether it is arthritis or arthrosis, there is a certain risk of disability. Of course, if the treatment is started timely and a patient is under constant supervision of experienced doctors, there is a good chance to keep the mobility of the joint long enough.
But it also happens that conservative treatment is unsuccessful, the patient gradually loses the ability to move normally, and hip endoprosthesis surgery seems the only reasonable option.
Arthrosis and osteoporosis are constant companions of elderly people, with women suffering from functional pathologies 2 times oftener than men. In the main, the both diseases are associated with age hormonal changes in the body and decrease in the synthesis of bone cells. With osteoporosis, the bones become brittle, whilst with arthrosis, joint cartilage thins out. Both these forms of joint dysfunction are not inflammatory.
Partial Hip Replacement Surgery
Evolving hip joint arthrosis / arthritis is an indication for either a traditional total, or complete, hip replacement or hip resurfacing (arthroplasty). These kinds of operations are variations of the hip replacement, but differ from each other significantly.
Hip resurfacing implies the maximal preservation of the hip bone. In this case only the surface damaged layer of the bone tissue is removed, and the whirlbone is covered with a metal cap to avoid further damage.
THE HIP REPLACEMENT SURGERY IS ALREADY POSSIBLE AT A PRICE FROM
€11,000
. PLEASE SEND US YOUR INQUIRY WITH A CURRENT X-RAY IMAGE TO GET A DETAILED ESTIMATE COST.
Hip resurfacing benefits
Today, a number of studies are conducted on the subject. The orthopedic surgeons all over the world acknowledge the benefits of hip resurfacing over the traditional method.
Hip resurfacing facilitates revision (repeated) operation. As far as those endoprostheses that are used in the hip replacement consist of mechanical components, it is marked that with time the whole implant unavoidably wears out and gets loose. As a rule, it takes place in 10-20 years after the operation.
The risk of the hip endoprosthesis displacement is less. Hip resurfacing implies the usage of more massive femoral components that fit the size of the real whirlbone in a greater degree. For this reason, their displacement occurs more rarely. But this statement is contradictory, as the risk of the hip endoprosthesis displacement after the operation depends on a number of other factors, including the applied surgical method, as well as the size and type of the utilized endoprosthesis components.
Hip resurfacing makes walking after the operation easier. In some studies it is shown that the patients after hip resurfacing walk more naturally than after the traditional operation. However, such differences are barely noticeable and their detection requires the usage of special instruments.
Hip resurfacing provides a greater range of the joint motion. As a rule, the patients after this operation have a greater range of motion than those after the traditional hip replacement. Nevertheless, several types of modern total endoprostheses allow achieving results that are similar to hip resurfacing ones.