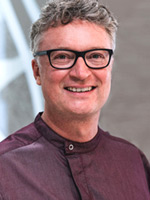 MD M. Kratschmayr
Dr. med. dent. Michael Kratschmayr has in addition to general dentistry u. a. specialized in TMJ diseases. Many complaints, such as headaches, neck tension, crunching etc. find their cause in the temporomandibular joint. In order to be able to derive a diagnosis, various investigations and analyzes are required. Kratschmayr practiced for years. U. a. the functional analysis. Trust in his experience.
Another approach that Dr. Kratschmayr pursued for 25 years, is the holistic dentistry. Here, the whole organism is considered, not just the teeth and the interaction between tooth and organism. Alternative medicines (homeopathy) are used, where conventional medicines and treatments have no effect.
Dental prosthetics is a complex of procedures to replace missed teeth. Depending on the number and positions of missing teeth, your dentist can advise different options for tooth replacement. In developed countries dental prosthetics has become a routine; there are about 2.000.000 various procedures to replace teeth are held annually in dental clinics in Germany. Modern methods of tooth restoration aim maximal preservation of own patient's teeth and sparing replacement of the missed ones. Below we will tell you about the main methods and techniques for tooth replacements Germany.