In following list of German physicians you will find the best aneurysm surgeons. Here you can access the presentations of these experts and send them a direct request for trearment or estimated cost.
The aneurysm surgery is already possible at a price from
€25,000
. Please send us your inquiry with a current x-ray image to get a detailed estimate cost.
Costs
Dissecting aneurysm of the thoracoabdominal aorta
from €25,000
German physicians enjoy a high reputation and trust in Germany. If you need a aneurysm operation, send an inquiry today!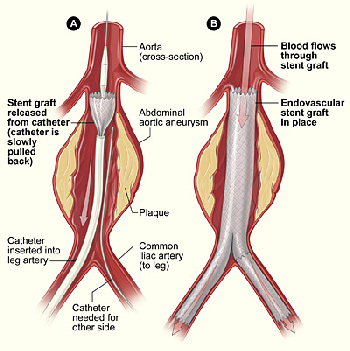 The German specialists are ready to offer you the widest range of the minimal invasive cardio-surgery techniques. The German doctors enjoy the best reputation for dealing with cardiovascular problems.
The aneurysm is basically a saccular-shaped bulging of an aortic artery. Aorta is usually separated into two sections: a breast section which is a thoracic aorta and an abdominal part which is an abdominal aorta. Aneurysm is an abnormal dispensability of aorta opening that can significantly grow and, as a result, lead to aortic disruption that is called rhexis.
Consequently, very serious internal hemorrhages may occur, which conversely lead to shock and even death. Blood clots — thrombosis — develop inside of the unruptured aneurysm quite often. They cause vasoconstriction of arms, legs, and abdominal cavity organs.
Abdominal artery disorder (AAA) is a pathological dilatation of abdominal red vessel diameter up to approximately 3 centimeters. Abdominal aortic aneurysm is the most widespread aneurysmal type. The main causes for abdominal aortic aneurysm are inherited predisposition and atherosclerosis. Moreover, this is a common disease among men at 65 plus. Oftentimes abdominal aortic aneurysm proceeds asymptomatically. This means that a patient doesn't feel any of disease symptoms or signs for years or even through the whole life. Furthermore, the main risk is that abdominal aneurysm can abruptly rupture without any apparent reasons and it can result in lethal bleeding. The rupture risk correlates with its original size and a rate of its increase. In a case of abdominal aortic aneurysm of 5 cm in diameter, the risk of rupture is less than 3% a year. If this diameter is greater than 5 cm, this risk goes up to 50% in upcoming two years.
Based on the information above, the aneurysm with 5 cm in diameter (and 4,5 cm among women), requires a surgical intervention. If the diameter is between 4 cm and 5 cm, a surgical interference can also be conducted. The decision-making regarding the necessity of surgical treatment depends on other factors as well. If it's not an emergency case where surgery is urgent, and an alternative way exists, then before accepting a decision regarding surgical intervention, a careful analysis of abdominal aneurysm risk factors should be provided.
Abdominal aneurysm rupture generally comes amid severe aches in the abdominal zones, pelvic area, and perineal region. Hemorrhage syndrome usually leads to vasogenic shock with loss of awareness.
An abdominal aortic surgery can be basically carried out in two ways: open repair (OAR) and endovascular repair (EVAR). OAR with some exceptions is an effective surgery from a technical perspective. Even more, this surgery is a standard method in cases of the rupture. Endovascular method (abdominal aortic endoprosthesis) is more advanced method. However, it has a series of restrictions and can be carried out in correspondence with all the indications and the fact that the limited number of patients needs the surgery simultaneously, because a qualified doctor pays individual attention to every client.
The treatment duration makes approximately 2-3 hours. The optimal cut-down treatment approach in case of open surgery includes midline laparotomy starting from xiphoid appendix to pubis — this approach leaves a big scare. After the exposure, an aorta is clamped above and below the aneurysm, and then this aneurysm cut on its anterior wall. After that, a synthetic prosthesis is set and sewed between two relatively fixed aorta ends above and below the aneurysm. Along with that, depending on abdominal aortic aneurysm widening, tubular prosthesis or Y-prosthesis is used. Tubular prostheses are used more often. In order to avoid prosthesis inflammation and intestinal fistula development, the prosthesis is covered with aneurysmal pouch walls and it isolates an anastomosis line from the duodenum. After such open surgery, an abdominal aneurysm can be removed safely and irrevocably.
Patients who were operated on are being observed in the intensive care unit after the surgery is finished. The period of hospital care after the open abdominal aortic aneurysm repair makes 14 days. The rehabilitation period that involves usual life activities renewal varies from 4-6 to 10 weeks. During this period, only calm walks at fresh air are recommended. Weight-lifting is absolutely prohibited.
Minimally invasive treatment methods like EVAR or endoprosthesis is much more attenuated procedure for both heart and body. As a result, the rehabilitation period is much shorter than during the open surgery. Regular post-surgery check-up examinations are necessary and very important after every abdominal aortic aneurysm surgery method: open aortic repair (OAR) or minimally invasive endoprosthesis (EVAR) approach. It also should be noted that regular checkups in case of minimally invasive endoprosthesis are much more complicated than in the case of open repair.