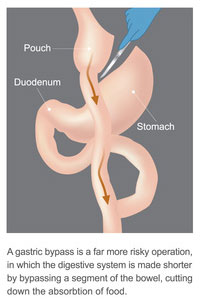 The gastric bypass is a surgical procedure in obese patients that is used to bypass and thus exclude large parts of the stomach and the small intestine from the digestive process. With a small remaining stomach the patients feel satiety even after a very limited amount of food. The result is a fast and pronounced weight loss.
Gastric bypass (more precisely: Roux-en-Y gastric bypass) is a very common obesity surgery used to reduce weight. It is named after the Swiss surgeon César Roux, who developed the basic technique for the intervention. The "Y" represents the Y-shaped diagram of the way the intestinal sections are joined together.
The success of a gastric bypass surgery is based on two principles:
The stomach reduction decreases the food intake (restriction)
Due to the elimination of the important upper part of the small intestine (duodenum), the digestive juices that break down food are mixed later with the food pulp (lower nutrient absorption = malabsorption)
The weight loss after a gastric bypass surgery is dramatic and reliable, but it is accompanied with some lifelong restrictions: Patients with a Reoux-en-Y-bypass may eat only very small portions, because after the operation the remaining stomach ("stomach pouch") has a very small volume. The poor nutrient utilization means that patients have to take life-long dietary supplements and vitamins (especially vitamin B12, trace elements and protein preparations) to avoid deficiency symptoms. Some of the nutrients remain undigested causing fermentation processes in the colon. However, the operation cannot be reversed after a successful weight reduction.