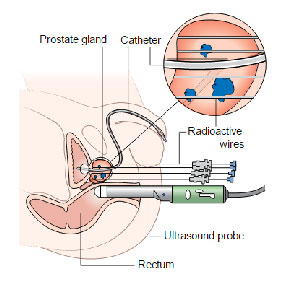 Brachytherapy is a method of radiological therapy by which a radiation source penetrates directly in the target tissue of the affected site, the tumor nidus, without interfering with other systems or structures of adjacent soft tissues. To remove a malignant tumor of prostate gland an interstitial brachytherapy is used, which enables to treat not only the prostate gland, but also soft-tissue-organs.
Brachytherapy in Germany is done on a high technological level due to the professionalism of the physicians who use only modern equipment.
With the help of radioactive needles or applicators the source is placed directly into the affected area, minimizing the radiation exposure to adjacent tissues.
There are two methods of prostate brachytherapy, each of them has its special features. The first method involves a temporary radiation source which is removed after the therapy leaving no radioactive material in the prostate gland. The second one implies injection of radioactive seed implants into the prostate gland that remain there permanently. One of the main reasons for brachytherapy in Germany is a low complication rate.
Usefull Information About Brachytherapy
Request for further information about
Brachytherapy in Germany
using our Whatsapp and Viber number.
+49 176 738 762 53
Our goal is to contact you within a business day to review your medical and financial information.