Hospitals and clinics in Berlin
In Berlin, 60 hospitals provide medical care for the population of Berlin and the surrounding area of ​​Brandenburg. With the Charité as the largest university hospital, the Vivantes clinics as a large community-based care hospital as well as many church, charitable and private clinics, comprehensive medical care is available for all medical treatments.
Doctors, nurses and therapists of other medical professions treat patients from Germany and abroad.
As a result, Berlin has become an important location for the healthcare industry. The Berlin hospitals together supply over one million inpatients. Most commonly, patients are hospitalized for heart failure, followed directly by problems with excessive alcohol consumption. Illnesses or treatments for which patients are particularly likely to look for a hospital on the Internet are addictions, surgery for an artificial hip joint or knee joint, and psychosomatic clinics.
Knee and joint surgery in Berlin
Knee and joint surgery Berlin, replacement of the hip and knee joint in Berlin, implant joints in Berlin, surgery for replacement of the joint surface in Berlin, implantation of the endoprosthesis in Berlin, correction of valgus deformation in Berlin, joint surgery Berlin, endoprostheses in Berlin, prosthetics in Berlin.
Our medical consultants are often referred by patients with questions related to the replacement of knee or hip joint in one of the clinics in Berlin.
Represented on this page experts from the field of orthopedic surgery, conducting surgery in Berlin arthroscopy or replacement of the hip and knee joint, establishing artificial joints, usually have a lot of experience. Each of these specialists per year account for hundreds of operations for partial or complete replacement of the joint.
In orthopedic clinics in Berlin in the recent trend of minimally invasive surgery to replace the surface of the joint.
Along with this, classical implantation of the joint endoprosthesis with the use of artificial joints of proven manufacturers is offered. In our time, joint replacement in Berlin has become an absolute routine with minimal risks, while high quality standards have been achieved and the length of stay in clinics has been reduced. With a minimally invasive technique, there is virtually no scar left at the site of surgery. After a knee or hip joint replacement, our patients usually have 3-4 days in the clinic, then 1 week in a rehabilitation clinic. When choosing a joint replacement clinic in Berlin, you will be offered the optimal cost option that matches your financial possibilities, from budgetary to the most comfortable.
Our specialist consultants will prepare and coordinate in advance the entire process of arranging your arrival and stay for the replacement of the joint in the clinics of Berlin. You will use the services of our experienced medical translators when visiting doctors and performing treatment. You do not need to worry about anything - everything will be done for your benefit. We are waiting for your requests by phone or email. mail, indicated in the contact information.
Urology in Berlin
Dear patients!
This page provides information on urological examination, diagnosis and treatment of urological diseases in Berlin, examination and treatment of chronic prostatitis, treatment of good and malignant prostate tumors in Berlin such as adenoma and prostatic hyperplasia, prostate or bladder carcinoma and others.
Our experts and urology clinics in Berlin occupy high positions in medical ratings, thanks to numerous positive results, both in diagnosis and in the treatment of urological diseases. In the treatment of prostate diseases, Berlin uses both a modern, gentle method of treatment - brachytherapy, and a more classical surgical method, such as radical prostatectomy (surgical removal of the tumor) and, of course, a popular and also gentle method of operation with the application of the Da Vinci Robot system.
Among our urologists in Berlin there are experts who also deal with the causes of impotence and infertility. Often our men-urologists in Berlin are treated by men with azoospermia. The treatment options for this disease are considered individually for each patient. The same can be said with certainty about the treatment of impotence. Our urologists in Berlin claim that impotence is not a sentence, and often in an individual case, treatment is possible when combining psychosomatic and medicinal methods. To do this, you need to seek the help of qualified urologists, without refusing to receive in advance information about the possibility of treatment. Another common problem in men today is chronic prostatitis, which can also be treated if, at a time, you contact a professional urologist. Among the results of treatment of prostatitis, experts in Berlin have a significant percentage of successfully treated cases.
In any of the above cases it will be useful to provide up-to-date tests and extracts from the history of your illness. It is best to translate these documents in advance into German or English to speed up the processing of your request. In English, documents are accepted for review more often and such processing will be faster. Often in the presence of a specific diagnosis, it is necessary to provide images of MRI. To do this, when you contact the request, you will receive instructions from our specialists on how to provide our urologists with your pictures. This procedure is standardized and is applied equally in all clinics of urology in Berlin.
We hope that the information provided here about urology and urologists in Berlin will be useful to you. Do not hesitate to contact us for requests for urology treatment, our staff will help you.
Clinics in Berlin provide numerous rehabilitation procedures. The main thing is to find a competent specialist and determine a treatment plan. You can apply for treatment via our website. When you will come to see a doctor, he will determine the number of required procedures and further treatment.
Berlin Attractions
Berlin catches fancy of those who love beautiful places and is inclined to experiment. The attractions of Berlin are varied and interesting. In the city, you can delve into the history or start learning the newest trends gaining popularity among the Berlin youth.
Popular attractions in Berlin:
The Berlin Wall.

This 160 km long concrete fence is now an art monument. For a long period of time, the Berlin Wall separated Eastern and Western Berlin and was a border between the two German states. At the moment, this is a reminder that the great nation was separated, with every part had own ideals and different purposes.

The Berlin Cathedral.

The Evangelical cathedral erected in 1905 became the mainstay of the Lutherans. Its magnificent architecture in the Baroque style is a great tourist attraction. The building is situated on the man-made island that to this day attracts not only tourists, but also true believers.

The Brandenburg Gate.

It is a kind of face of the city. Constructed according to the project by Carl Gotthard Langhans, it was conceived as a replica of the Athenian Acropolis. The resulting structure became more majestic and interesting, due to unique frescoes and inscriptions.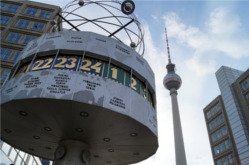 Alexanderplatz
The Reichstag

It is a place where today and future history is created. The Parliament building with its majesty and intricate architecture attracts tourists for years. The glass dome is the crown of creation. This building has its own history influenced all European states.

Charlottenburg Palace.

The magnificent building was built by Frederick III of Brandenburg for his wife Sofia Charlotte of Hanover. Baroque style penetrates every detail of the structure. It is considered one of the most beautiful castles of our time.

Alexanderplatz.

ФThis square is a futuristic center of socialist Berlin combining many buildings of modern architecture. The main highlight is a hotel 123 meters height with its own television tower.
Berlin is an amazing and beautiful German city with a peculiar architecture style that can inspire and discourage.
History of Berlin
Germanic tribes inhabited the territory of modern Berlin as early as in the V-VII centuries B.C. As a result of the resettlement, the old German fortifications were declined. The tribes sought for better and richer lands. Most of the land remained deserted for five centuries. By 720, a part of the tribes returned and developed the territories they occupied before. On the territory of Germany lived the Slavs. Albert the Bear gradually ousted the Slavic tribes from German territory and in 1157 founded Mark Brandenburg not admitting the Slavs.
Reichstag
Significant unrest continued on the territory of Berlin for three centuries. After the Hohenzollers officially received the power in the city, there came peace and tranquility. The population was constantly growing. The Church speculated with its power, blaming Jews for all the misfortunes
In 1539, Duke Joachim II started reducing the influence of the Church. Gradually the people became more tolerant to representatives of other nations. During the Thirty Years' War, the population of the city decreased by half. Most of the buildings of medieval architecture fell into decay and were ravaged.
After joining to Prussia, Berlin became a majestic and beautiful city with many authentic architectural buildings. The conquests of Napoleon, as well as the First and Second World Wars left their imprint on the city.
Holiday and Treatment in Berlin
Victory Column
When coming to Berlin for treatment, you can get not only first-class service, according to the latest methods of treatment, but also the opportunity to enjoy modern and comfortable facilities in clinics with an exhaustive list of services. Highly qualified personnel will recommend the most effective methods of treatment and optimal recovery courses. Within a few weeks everyone will have the opportunity to feel what German medicine is and see the real results.
Holiday in Berlin will be amazing and memorable. Along with treatment and rehabilitation, you can fully enjoy the beauty of the city and visit world sights that are within a walking distance.
Berlin is an impressive and interesting city. If you come to Berlin for health care, you can not only improve the health of your whole family but also enjoy architecture and learn the true history of the place that famous throughout the world for its traditions and excellent reputation.